Lectures 2010-2011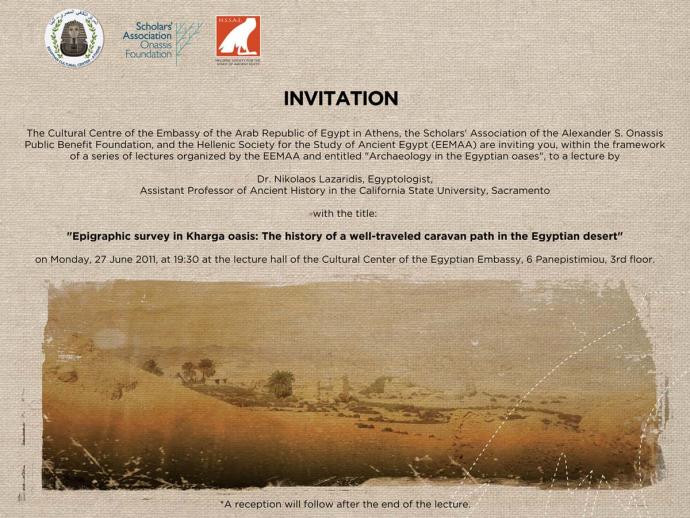 The Cultural Centre of the Embassy of the Arab Republic of Egypt in Athens, the Scolars' Association of Alexander S. Onassis Public Benefit Foundation, and the Hellenic Society for the Study of Ancient Egypt(HSSAE) invite you, within the framework of a series of lectures organised by the HSSAE and entitled: "Archaeology in the Egyptian oases", to a lecture by
Dr Nikolaos Lazaridis, Egyptologist,
Assistant Professor of Ancient History in the California State University, Sacramento.
with the title:
"Epigraphic survey in Kharga oasis: the history of a well-traveled caravan path in the Egyptian desert"
on Monday, 27 June 2011, at 19:30 at the lecture hall of the Cultural Centre of the Egyptian Embassy, 6 Panepistimiou, 3rd floor.
*Reception to follow.
*A reception will follow after the end of the lecture.
---------------------------------------
The Cultural Center of the Embassy of the Arab Republic of Egypt(CCEARE) and the Hellenic Society for the Study of Ancient Egypt(HSSAE) have the pleasure of inviting you, as part of the annual lecture series 2010-2011 of HSSAE "Archaeology in the oases of Egypt", to a lecture by
Laure Pantalacci,
Professor of Egyptology, Universite Lumiere Lyon II,
entitled:
"Living on the fringe:the Western oases of Egypt 4000 years ago",
on Thursday, May 12th 2011 at 19.30, at the Egyptian Cultural Center 6, Panepistimiou str., 3rd floor, Athens.
The speaker will be introduce by Dr Hisham Darwish, Cultural Attache of the Embassy of the Arab Republic of Egypt.
*Reception to follow.
**The lecture will be held in English.